Drummond Read was instructed by the owner of a London apartment to provide an estimate for the replacement value of a panel of 18th century hand-painted Chinese wallpaper.
The panel had sustained water damage from a leak from the upstairs property. The wallpaper depicts trees with scrolling foliage, flowers, and birds, painted in famille rose colours (shades of pink used on Chinese porcelain wares of the 17th & 18th centuries) on a dusky pink ground. These motifs have a long tradition in Chinese decorative arts, their beauty laden with symbolic significance. In Europe, a fascination with and hunger for Chinese decorative wares (along with other goods) began to grow from the late 17th century, admired for their exquisite artistry, elegance, and evocations of what Europeans perceived as a sophisticated and refined civilization. The Chinese wallpapers, unlike those available in England at the time, were far more costly, so only the wealthy could afford to hang them.
Action
Advice was provided to the owner as to the extent of cover under the insurance policy as to cover for the replacement of both panels. Also, that an actual matching replacement panel for the damaged panel would be impossible to source, such panels are rare. This is because they were often commissioned in the 18th century, for a specific room in a unique colourway and design. The panels now available are therefore all differing in nature.
Valuation
As actual replacement was not going to be possible, a replacement value was established based on the likely cost of a comparable size and age panel being available at either auction or from a gallery source. This value had to take into consideration the original condition of the panel prior to its water damage and the likely cost of a similar panel exclusive of its matching panel as this was excluded from cover.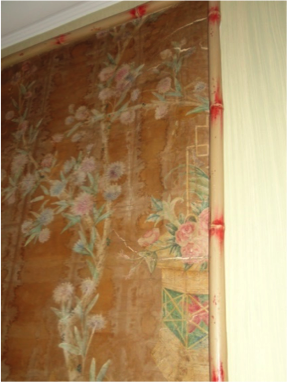 The damaged panel of Chinese wallpaper was one of a pair, and its matching companion was on the opposite wall which had not been damaged. The panels had been glued directly to the wall and set within a handmade bamboo effect frame.